There's nothing wrong with a good schmear of cream cheese on a hot New York–style bagel; in fact, it can be a great starting point. But if you're game to take your bagels from good to great, we've got eight inventive sink-your-teeth-into-it bagel-topping ideas that are sure to please for breakfast, lunch, or dinner.
Spinach & Artichoke Dip Bagel
Toasted Plain New York–style bagel + cream cheese + sour cream or mayonnaise + jarred artichoke + fresh or frozen spinach + Compliments Part Skim Mozzarella Shredded Cheese + Parmesan
To make: Whip up a classic spinach-artichoke dip as suggested above (or use this recipe) and slather that molten goodness on warm bagels. If you've got company coming, quarter the bagels after toasting them and serve to dip into everyone's favourite hot dip.
Jalapeño Popper Bagel
Toasted jalapeño New York–style bagel + cream cheese + shredded Monterey Jack + chopped green onions + garlic powder + chopped jalapeño (fresh or pickled)
Deconstruct a pub classic with this jalapeño-popper bagel. Or, as with the bagel tip in the recipe above, quarter toasted bagels and serve the dip in a small cast-iron skillet or pan as part of an epic charcuterie board.
To make: Mix softened cream cheese with Monterey Jack, green onion, garlic powder and chopped jalapeño. Spread on a halved bagel and bake in either a 190°C-200°C (375°F-400°F) oven or air fryer until browned and cheese is melted. Top with fresh or pickled whole jalapeños if desired.
Honey Pecan Bagel
Cinnamon New York–style bagel + cream cheese + liquid honey + cinnamon + chopped toasted pecans
A perfect breakfast or coffee-break option that pairs cream cheese with honey and cinnamon, topped with crunchy toasted pecans, to satisfy those "I need a break" moments.
Everything Reuben Bagel
Toasted and buttered everything New York–style bagel + sliced deli pastrami, corned beef, or roast beef + sauerkraut + Compliments Swiss Cheese slices + Compliments Thousand Island Dressing + 1 gherkin
Who doesn't love a good Reuben? This one, made with an everything bagel, goes a step beyond to bring you the deli at home! Psst, you can also level up your burger à la Reuben, too, if you're so inclined.
Berry Cream Cheese Bagel
Blueberry New York–style bagel + cream cheese + Greek or Balkan plain yogurt + raspberry jam + fresh raspberries or sliced strawberries + chia seeds or chopped almonds
Celebrate berry season with this ode to summer fruit enjoyed with a wild blueberry–studded bagel, cream cheese, and raspberry jam. Doesn't get much better than this.
To make: Mix softened cream cheese with enough yogurt to make it spreadable, swirl in raspberry jam and spread on a bagel; top with raspberries or strawberries. Sprinkle with chia seeds or almonds.
White Bean & Roasted Red Pepper Bagel
Toasted multigrain New York–style bagel + canned white beans + chopped jarred roasted red peppers + chopped green onions + olive oil + lemon juice + minced garlic
Move over, avocado toast! This veg-based bagel packs a punch of flavour
To make: Mix slightly mashed white beans with roasted red peppers, green onions, olive oil, lemon juice, and garlic. Spread on a bagel.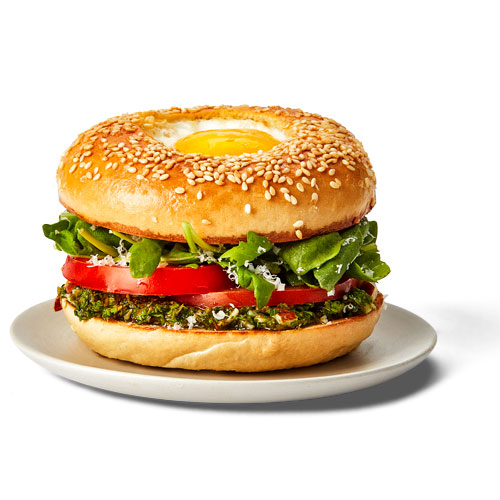 Pesto Egg in a Hole Bagel
Sesame New York–style bagel + Compliments Basil Pesto + fried egg + finely grated Parmesan + baby arugula
This isn't your ordinary egg in a hole! It gets an upgrade with pesto, Parm, and baby arugula for the perfect breakfast, brunch, or any time bagel sandwich.
To make: Halve a bagel crosswise, then cut a 1½-in. (4 cm) hole from the top of the bagel. In a non-stick skillet over medium heat, heat 1 tsp (5 mL) vegetable oil. Place the bagel top, cut side down, in the pan and crack an egg into the hole. Let cook until the whites are no longer translucent, 2 to 3 min.; sprinkle with Parmesan. Spread pesto on the bottom half of the bagel; top with arugula and Parmesan. Sandwich with the egg half of the bagel.
Bacon, Tomato & Alfredo Bagel Melt
Toasted cheese New York–style bagel + thick-sliced vine-ripened tomato + Compliments Alfredo Sauce + Compliments Shredded Part Skim Mozzarella Cheese + crisp Compliments Naturally Smoked Thick Cut Bacon
This is a quick and easy take on a traditional Kentucky Hot Brown, where vine-ripened tomatoes are topped with a quick cheese sauce over a toasted bagel (in this case) and broiled until bubbly. Served open-faced with crisp bacon, it's salty, cheesy comfort in every bite.
To make: On a foil-lined baking sheet 6 in. (15 cm) from the top on low, broil a halved bagel, cut side up, until lightly toasted, 3 to 4 min. Layer 1 or 2 tomato slices over top, then spread with ¼ cup (60 mL) Compliments Alfredo Sauce stirred with ⅓ cup (75 mL) Compliments Part Skim Mozzarella Shredded Cheese. Broil until browned and melted, about 6 min. Serve with crisp Compliments Naturally Smoked Thick Cut Bacon.